Clinics taught by Pam...

Training Location...

Regular clinics in the following towns:

Austin, TX contact: Laura Jones 713-703-5109

--------------------

Little Rock, AR

contact: Marty Hopkins 501-993-6427 --------------------

Kansas City, MO

contact: Donna Parsley 816-582-8145 --------------------

Sun Valley, ID contact: Danielle Thomason 208-308-0851

Exhibition Performance

Call Pam to schedule a clinic 281-785-6498

Local Area Shows...

---
June 11th-14th, 2015
a'Plaisance headed by Steve Hemphill hosted a grand international jousting competition which benefitted the handicapped riding program S.I.R.E. at Great Southwest Eq. Ctr. In Katy Tx. and it was a smashing success! The best and highest ranked jousters from the U.S. and Europe competed and thrilled the audiences.
Jeffrey's super star, "Pooh", ended up in colic surgery instead, but thank God she's ok now! Pam did a breathtaking medieval Grand Prix musical freestyle performance on the stunning Friesian stallion "Dierderik" to kick off the Saturday evening finals and then watched the rest of the show with her students.
Enjoy this slide show of beautiful pictures by Kelly McChesney of a magical evening.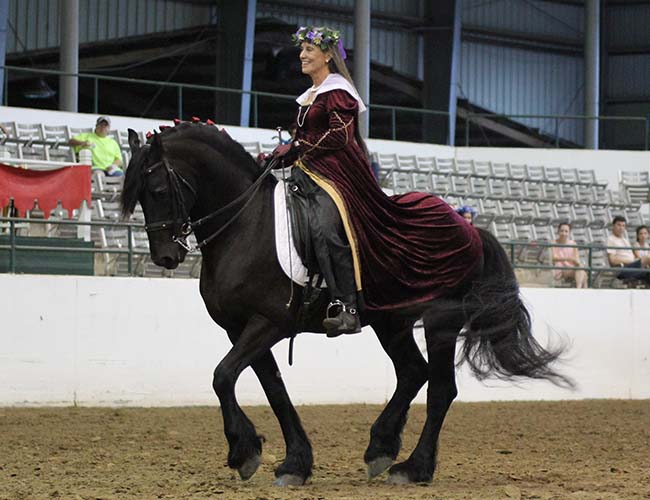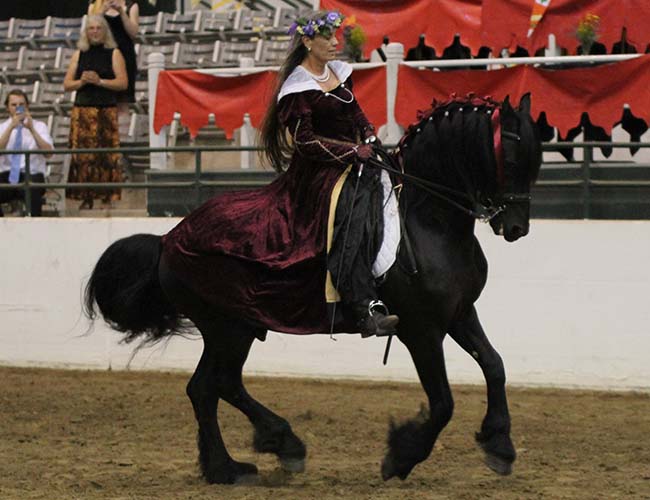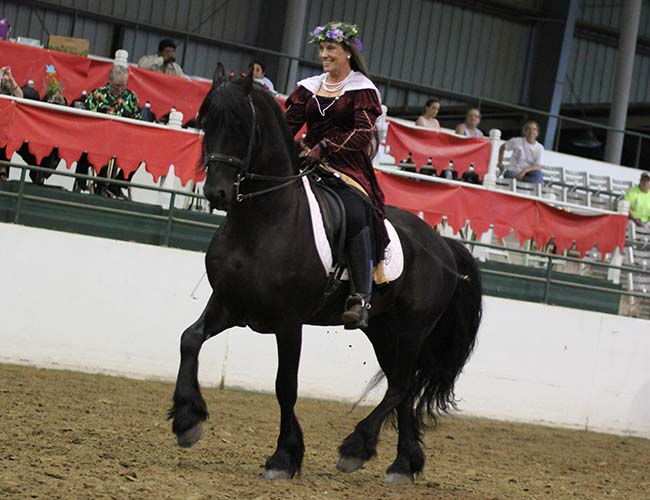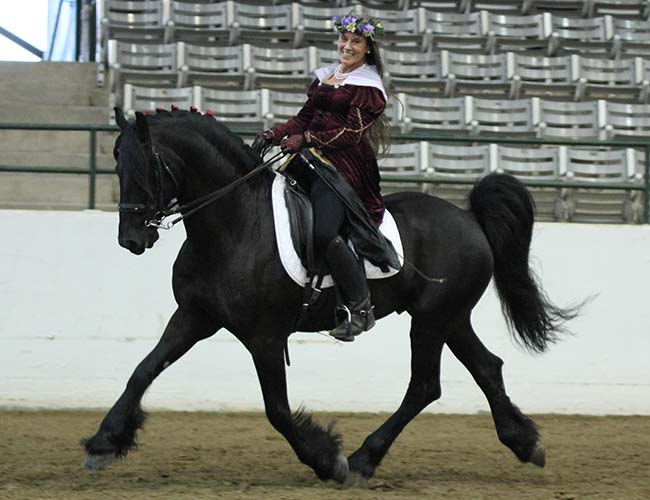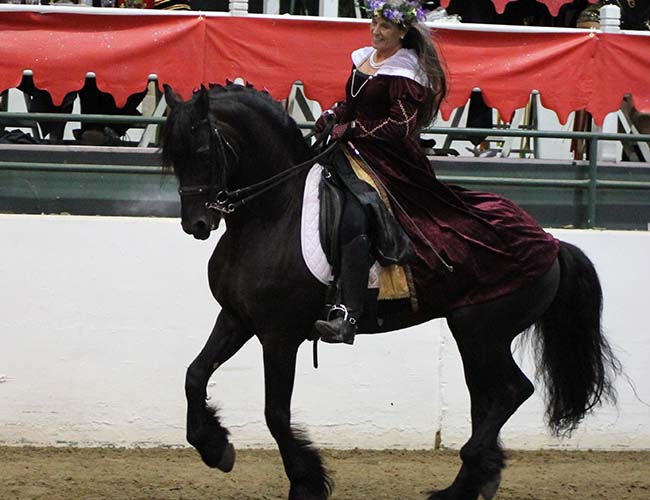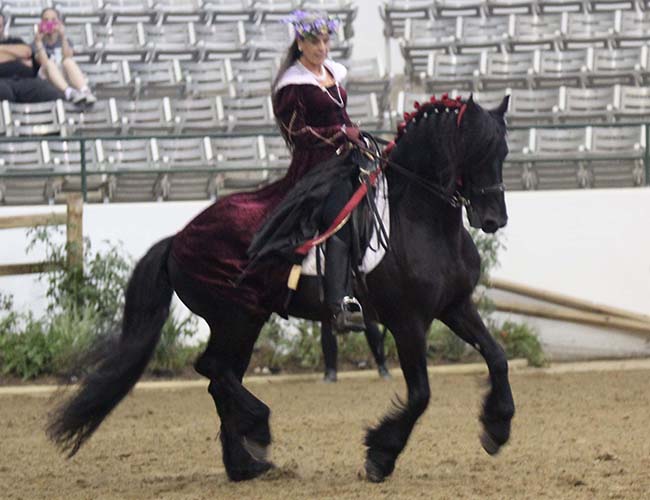 Saturday, July 12th, 2014
Alamo Dressage Association sponsored a western dressage clinic at Vera Muckleroy's farm near San Antonio where Pam was keynote speaker and clinician. The event was well attended by both traditional and western dressage enthusiasts as well. To kick off the day, Pam gave a lecture on balance, thoroughness, suppleness and how to have an effective seat and soft aids. Pam's student Jeffrey Bashaam, and his mount "Pooh", demonstrated movements through second level. Many who were seeing western dressage for the first time were impressed that the quality of dressage demonstrated also would have scored well at a traditional dressage show.
Jeffrey studies dressage with Pam in order to improve his jousting - a discipline where he's highly successful.
After the lecture and demo, Pam taught private lessons the rest of the day, stopping frequently to answer questions for the audience. Jeffrey rode in the Circle Y dressage saddle designed by Pam which was also on display during lunch break.
A good time was had by all. Pam has two students who are, in addition to Jeffrey, competing very successfully in western dressage and traditional dressage as well. Here are a few highlights of the show season from them.
Pam sends congrats to all and is very proud of them!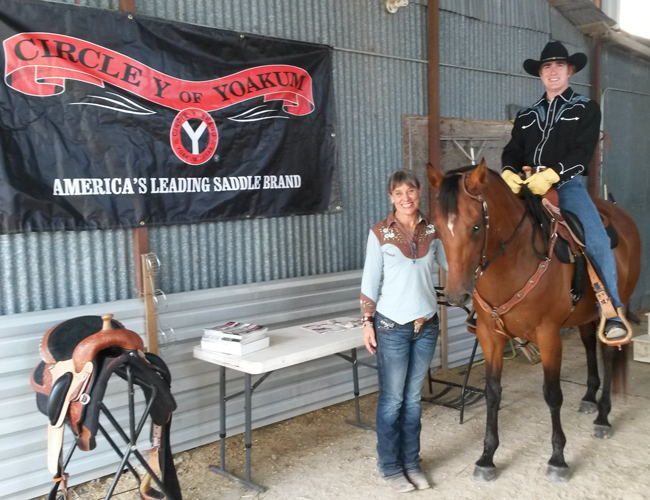 Open Knight at Pin Oak 2013

A gathering of great horses and good friends. Wednesday evening Pam and 'Star In Stripes' were the crowning jewel of the evening entertainment which included an historical jousting and melee demonstration, put on by the International Jousting League and a'Plaisance, Ltd.

After the joust, Pam dressed as a medieval princess, and 'Star In Stripes' performed a stunning Grand Prix freestyle, dancing perfectly to the music as if they were floating on the clouds. It was a magical place in time which lifted every spirit there. An uplifting display of grace in motion and perfect harmony between horse and rider... they radiate JOY!

Please enjoy this wonderful photo journalistic gallery commemorating "Open Knight at Pin Oak 2013" All photos© 2013 Kelly McChesney (Kelly's photos of Pam also appear in the book 'Native Treasure')

Pam's smile lights the way as her horse flows through the advanced choreography with the ease and air of a dashing gentleman and polished performer. It is grace in motion to see 'Star In Stripes' flowing through these Grand Prix movements with relaxation and exuberance for the rider he adores.
Needless to say, after their final salute they departed the arena serenaded by the cheers of a standing ovation from an adoring crowd.
After the event, the performers gathered to join Jeffrey in thanking Sherry Wallace who so graciously sponsored the event. The real superstar of the evening was little Cayde who came to the Pin Oak Charity Horse Show through the 'Make A Wish Foundation'. Cayde loves horses and asked to be able to attend the Pin Oak Horse Show. She has been staying at the Ronald McDonald House of Houston and the Texas Children's Hospital for over a year awaiting a double lung transplant. All of the performers wore scarves on their arms in her honor as she actually received her new lungs and was in surgery the day of the performance. She is pictured below with all the pink scarves .
Pam is very impressed to see that that many of the top international jousters are incorporating very pure and correct dressage basics and techniques into the schooling of their jousting mounts. Pam works on a regular basis with Jeffrey Basham and his fearless mare "Pooh" (pictured above), as well as clinicing with several of the other international level jousters whenever they are in the Houston area for events.

photos© 2013 Kelly McChesney

---

The following Saturday was the Andalusian Show at Pin Oak. Pam rode the stunning young gelding 'Catrin', in the dressage class. This was the very first horse show for the youngster owned by George and Susan Dillman, and he had a solid, impressive first outing garnering 3rd place in a large class which included several seasoned champions. Afterwards, 'Choo Choo' as he is called for short, was showered with squeals of delight and the praise of his adoring entourage.

photos© 2013 Kelly McChesney

---
Lords & Ladies... May we present:

Sir Jeffrey Basham - Knight in Shining Armour

In May of 2012 Pam's student, Jeffrey S. Basham and his horse AQH Pooh Bear, competed in the worlds largest historical competitive jousting tournament that has been held for over 300 plus years. The competitions this year consisted of 45 competitors from six countries.

Why riding an AQH? Because the Knights' medieval war horse, also known as a destrier, was on average 15 hands and were more compactly built and not particularly tall when compared to modern European warm bloods of today.

Well trained horses were highly sought and praised and even though the training and riding techniques were not as formalized as today, many of the elements of dressage and hunter/jumper roots date back to such a period. Thus, Jeffrey sought out Pam to train them both to compete in Western Dressage events and to use the fundamental elements of dressage to give them the best competitive edge possible as this was their first competitive joust.

photo© 2012 Lysts

And how did they do you ask....?

2nd in the Novice Joust (tied first with a perfect score)
1st Novice Melee
1st Skill at Arms - International Jousting Leage (IJL)
1st Skill at Arms - Texas Division

photos© 2012 Lysts

In addition, Jeffrey won three of four armored deeds at arms (foot combats).

---
2012 is off to a Hot Start !

Things have been hopping around Sun & Shield Riding Club lately. The Andalusian stallion 'Juan Francisco', owned by Kathryn Dexheimer, had his debut at 3rd Level at the Windy Knoll Show on March 17th & 18th. The Gypsy Stallion 'Sir Ivanhoe of England', owned by Diane Poirier, has been hot on the show trail at Windy Knoll, Manor (April 14th-15th), and San Antonio (May 5th-6th). He has won four 1st place ribbons and a 4th at First Level and has qualified for SWDC Championships.

photo© K. McChesney

Pam and 'Star In Stripes' had two beautiful Grand Prix performances, along with a flag ceremony, at Pin Oak Charity Horse Show on March 25th and 30th. As usual, they danced their hearts out and thrilled the crowds.

----------------------------

photo© K. McChesney

photos© K. McChesney

photos© K. McChesney

photos© K. McChesney

Everyone is enjoying their horses and the gorgeous new facilities at Winning Ways Farm. All is well and we are on track for a great year!

photos© K. McChesney

photos© K. McChesney

---
International CDI Show Exhibition, May 30th, 2011

Saturday evening the 30th of May, 2011 was a special night. It was the dinner and gala performance for Texas' first International CDI Dressage show hosted by the Houston Dressage Society.

As is the case with all of their exhibition performances Pam and 'Star In Stripes' were the highlight of the evening. To welcome the international competitors and give them a true 'taste of Texas', Pam and her dance partner donned western attire including the new western dressage saddle designed by Pam for Circle Y Saddlery.

RIGHT - the extended trot

BELOW - Playing off of Davin - Dancing up a storm!

photo© Susan J. Stickle

Pam and her sweetheart, 'Star In Stripes' delighted the crowd with a grand pri musical freestyle presentation danced to the live accompanyment of one of Texas' favorite and most celebrated country bands Davin James and the Bullnettle Band, who performed a foot stompin', hand clappin' rendition of the title song from their CD 'Magnolia'. As always, Pam and 'Star In Stripes' had the whole place on fire. Pam dressed like the cowgirl 'Magnolia' and performed very impressive and technically correct impromptu choreography to Davin's music like it was a dance in the park.

photo© SusanJStickle.com

"We all had a blast! I would like to give special thanks to Davin for the great live dance tunes, and would also like to extend thanks to Susan Stickle for her beautiful photos to preserve the memory of a grand evening 'Texas' style! "

photo© SusanJStickle.com

photos© SusanJStickle.com

---
Traditional & Western Dressage Clinics - The Reserve, Austin, TX Pam is the Featured Clinician each month at 'The Reserve'

USDF Gold Medalist and USDF 'L' judge, Pam Fowler Grace, was the guest clinician for a two day Dressage Workshop at the beautiful Austin Equestrian Center at the Reserve near Lake Travis in early March. The clinic was unique, as both traditional and dressage for Western riders was emphasized. Pam also treated us to one of her fabulous freestyles on her Dutch gelding Star in Stripes, "Kossini," debuting a newly designed Western saddle just for dressage riders by Circle Y Saddlery .
Pam has been involved in the design and fit this unique saddle. Circle Y Saddlery has the new saddle in production and it is available through local distributors. If you are in the Houston area, the local Houston area dealer is Charlotte's Saddlery in Houston, ask for Bill.

Interested in learning more about Western Dressage? The Reserve at Lake Travis has booked Pam each month as a repeat Guest Clinician.Call Laura Jones at The Reserve for details and clinic dates: 713-703-5109 If you are not in the Austin area and would like to learn more about hosting a clinic in your area - click here.

To read the complete article as seen in The Horse Gazette - Click Here (courtesy of Luarie Virkstis).

---
Pin Oak Charity Horse Show Exhibition, 2011

The audiences at Pin Oak were treated to 2 performances by the girls at Sun & Shield. March 23rd, Pam did a Grand Prix musical comedy act on 'Star In Stripes' in her new western dressage saddle and Elvis costume to a medley of 'The King's" music. Shortly after entering the arena, her girth came loose, but Pam kept riding and completed the entire performance essentially girthless - quite a testament to both her and 'Star In Stripes' balance! The crowd was thrilled and amazed.

photo© Shawn McMillen

The second performance on March 24th, Pam rode the magnificent Gypsy Vanner stallion "Sir Ivanhoe of England" and her student Adrienne Gardener rode the Gypsy gelding "LeoDinardo" in a whimsical pax de deux to "Somewhere Over the Rainbow" which was also a big hit with the audience.
Pam and Adrienne's satin and velvet dresses flowed gracefully and were framed with the flowing mane, tails and feathers of the Vanners as they danced thru the arena. The ambiance was magical.

more pictures coming soon....

---
IALHA National Chamionships - Fort Worth, Texas

The opening act scheduled for the International Andalusian & Lusitano Horse Association (IALHA) Nationals Gala was Pam Fowler Grace on "Star In Stripes." A long-time member of the IALHA, Pam was asked to come to Fort Worth and dazzle us, and she did not disappoint. I was delighted to see Pam smiling from ear to ear while performing her beautifully choreographed dressage musical freestyle to a medley of American anthem music. As a dressage rider myself, it gave me goosebumps to see her perform in time with the music and execute the high school movements we all strive to ride one day. It was a perfect all-American way to start the evening program and set the tone for all the extraordinary riders and horses we were about to see.

-Laurie Virkstis Laurie Virkstis Photography

photo© LaurieVirkstisPhotography.com

---

After the opening performance the National Championship competition began. Pam was Reserve National Champion on Juan Francisco in Training Level dressage. Robert Hilliard, her student was Junior National Champion also on Juan and his brother Patrick Michael Hilliard was National Champion Junior Equitation on Laura.
photo© LaurieVirkstisPhotography.com

It was a fantastic show and Pam is very proud of all the hard work and ribbons earned by her students and Juan Francisco.

---
HDS Laborious Days Show - September 3rd-5th, 2010

The Houston Dressage Association's Laborious Days Shows held in Conroe, Texas were alot of fun. Sir Ivanhoe of England (left), owned by Diane and JP Poirer was a favorite of the judges scoring a 66.8 and a 70.4! Juan Francisco (below right), owned by Kathryn Wexhiemer, also had a great show with scores in the mid sixties. Pam was so pleased with both horses and also with Robert who did a wonderful job riding Juan in the junior division.

Sonesta Farms Show in Cypress, Texas

September 18th, Pam rode Sir Ivanhoe of England to first place with a 66.3 and training level Champion honors at the Sonesta Farms Show in Cypress, Texas.

---
A Well-Known Star and a Few New Stars Shine Bright.... Deep in the Heart of Texas!

Star In Stripes had the crowd on their feet at the Alamo Dressage Association Spring Show held March 20th and 21st, 2010 in San Antonio, Texas. In a show stopping performance that earned a score of 74%, Star In Stripes with his dance partner Pam aboard won the Grand Prix Freestyle Saturday night. Sunday morning he woke refreshed and entered the performance arena raising the bar and giving another knockout performance that won the hearts and cheers of the crowd.
Some exciting new stars are emerging from Pam's training stable this year. Sir Ivanhoe of England, a Gypsy Vanner stallion owned by Diane and JP Poirer made his spring debut at the two Hearthstone Stables and two Sienna Stables shows winning both of his classes at all four shows. With these ribbons under his belt, he worked hard at home and made his first sanctioned show debut on May 20th and 21st at the Alamo Dressage Assn show in San Antonio again winning his classes and qualifying for the championships! His next sanctioned show was May 29th at the Great Southwest Equestrian Center where he won his training level class. Congratulations to Diane, JP and Sir Ivanhoe on a knockout spring show tour!

photo© LaurieVirkstis.com

photo© LaurieVirkstis.com

Also included in this new group of emerging stars are Syrah and Juan Francisco. Syrah is a beautiful Oldenberg mare owned and shown by Amber Hughes (left). Juan Francisco is a gorgeous Andalusian stallion owned by Kathryn and Robert Dexhiemer.
"...I have an amazing instructor who knows how to bring out the best in me and Syrah. I love Pam's hugs and smiles." ................. - Amber
Juan and Robert both made their show debuts this spring. Juan's debut was at Great Southwest Equestrian Center where he took second to his stablemate Sir Ivanhoe. Robert Dexhiemer also made his show debut aboard Juan at Great Southwest. You can read about both Amber's and Robert's show successes on the Sun and Shield Riding Club page.

photo© LaurieVirkstis.com

Great Spring and Summer Season Everyone!

photo© LaurieVirkstis.com

---
BIG News from the Show Road...

May 20, 2008 - Pam and Star In Stripes dazzled the crowds in the midwest at CDI competitions these past two weeks held at Lamplight and Paxton Farm. The pair took 2nd place in the GP Special, 3rd place in GP at Lamplight and finished 5th in GP Freestyle at Paxton. Enjoy the photos from a beautiful spring season in the Midwest!

.........................................

Read Pam's article in the May issue of 'Collective Remarks' available for download now at

Houston Dressage Society.org

Left - Brittany accompanying Pam and Star In Stripes back to the ring to accept their Reserve Champion ribbon in the Grand Prix Special.

---

April 5, 2008 - Contragulations to Pam and Star In Stripes on their 69.375 score at the new Texas Rose Horse Park which hosted the Texas Classic - "I just returned from the Texas Classic at the beautiful new Texas Rose Horse Park in Tyler , Texas. We won the Grand Prix on Thursday, and then came back Saturday evening and won the FEI Musical Freestyle Competion which included all the F.E.I. levels ( prix st. george's through grand prix ) with a 69.375. Star in Stripes was a Superstar !" - Pam (photos below)

---

Feb 18, 2008 - Contragulations to Pam and Star In Stripes on their 71.3 score in Grand Prix Musical Freestyle in Wellington, Florida!They had two really nice rides at Palm Beach Derby. Enjoy photos from the shows below.

---

Pam's dog Evan celebrates with the gang after a great ride at Palm Beach.
Star In Stripes sneaking Pam a big kiss after winning the Open Grand Prix at the GAIG Championships. They are seen (left) with long time friend and supporter Melinda who was there to cheer them on.

---

Below is Maple Lane Kero owned by Lynn Fitzgerald. He is only 4 years old and was shown by Pam at Wellington (only his second show!!) and took 6th in a group of very distinguished warmbloods.

---

Pam and Star In Stripes won the Grand Prix in Dallas at the Texas Dressage Classic and then went on to finish the 2007 season with a BANG at the Great American Insurance Group Championships Nov. 1 - 4, 2007. Their breath taking ride garnered them the coveted title of 2007 OPEN GRAND PRIX CHAMPIONS!

---